KYPARISSIOTON SOCIETY OF AMERICA
ΣΥΛΛΟΓΟΣ ΚΥΠΑΡΙΣΣΙΩΤΩΝ
SAN FRANCISCO, CALIFORNIA
http://facebook.com/Kyparissioton.Society.of.San.Francisco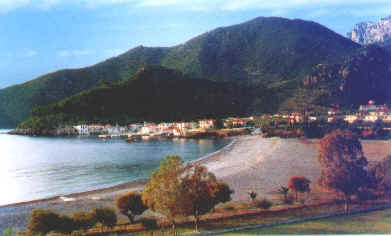 The last place Princess Diana took a vacation.
KYPARISSI
Kyparissi is nestled in the olive groves cascading towards the coast of the Mirto sea. It lies 124km, from Sparta and 380 km, from Athens.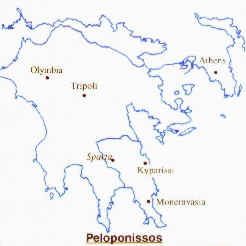 The village has three neighborhoods, each one with its own personality. "Vrisi", with the classical whitewashed homes, and has a nostalgia that many of us long to return to. "Mitropoli" and "Paralia" are by the sea and boast stunning views of the crystal clear waters lapping shore. With it's history dating back as far as 1,000 B.C. this fishing village has yet to loose its rustic charm.
Kyparissi is known for its superior quality olive oil, for the mountain thyme honey and its delicious mizithra cheese.
True to Mediterranean form, the villagers are very warm and hospitable people. They make their living through agricultrue, livestock and tourism in the summer months. To fulfill its most basic needs the village has a priest, a doctory and a teacher all year round.
In the summer months however, the small village blossoms to its fullest. The tzizikia (cicada's) are singing a welcome tune, to about 4,000 visitors, friends and relatives.
Kyparissi is proud of its sons and daughters living abroad (TIN XENITIA), drawing us back to its warm embrace time and time again.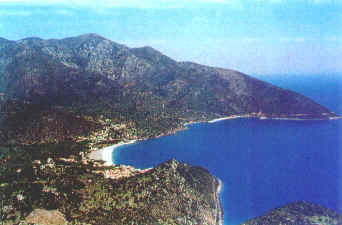 | | |
| --- | --- |
| OFFICERS | BOARD OF DIRECTORS |
| | |
| President : George Petroutsas | Eleni Eliopoulos |
| | Penny Legakis |
| Vice President : Bill Vourthis | Jim Eliopoulos |
| | Maria Belesis Prontzos |
| Secretary : Yiota Taptelis | Venetia Vonich |
| | Dionysis Heliotis |
| Treasurer : Peter Eliopoulos | Louis Tsigaris |
Greek Page about Kyparissi
Billy Menexis Page about Kyparissi